BORN FOR LONG-DISTANCE TRIPS
2 STROKE 100 CC ENGINE DFi
Since 2010, MSR ENGINES has been developing the most advanced motorized surfboard in the world. Tested in the toughest conditions such as big waves, various water surfaces and high performance racing series in MotoSurf WorldCup, JETSURF Motorized Surfboard ® is coming with the latest direct fuel injection motor that brings the motosurfing world to a whole new level.
ALTERNATOR
The JETSURF Motorized Surfboard company works hard to push the industry beyond its limits. The level of fun factor is directly proportional to the limits you face when using the craft. An awesome upgrade is now out! Charging the board will no longer limit you. The smallest and lightest alternator unit the PWC (personal watercraft) industry has ever seen takes the JetSurf board autonomy to a whole new level.
INTAKE SCREEN
Say NO to troubles with dirt in your JETPUMP. Intake screen protects the jetpump from debris.
ADVENTURE RACK
JETSURF Adventure is the right choice for any experience. Why not to film it or make a photo memory from your ride? Carrying your belongings on a JETSURF board has never been easier. The Rack on the Adventure model will now help you to put a duffel or additional fuel can on board.
*Part of standard equipment.
FUEL TANK
Fuel tank is a brand new accessory attachable with a clip to the front part of the JETSURF ADVENTURE board. Additional fuel tank will make the board independent for up to 3 hours of cruising time.

*Part of standard equipment.
MAIN MODEL ADVANTAGES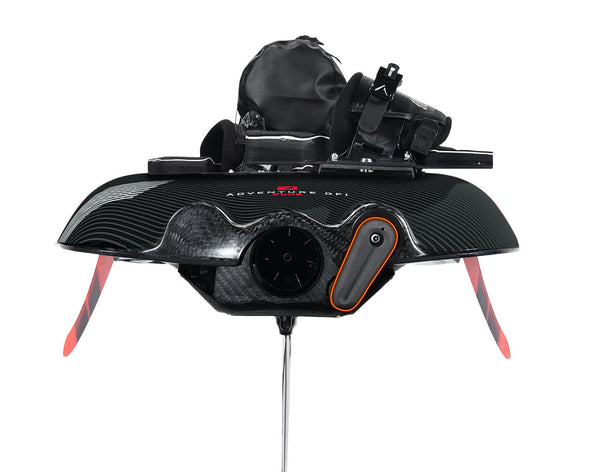 SILENCER
The silencer is a brand new feature coming to the JETSURF model line-up. The silencer significantly reduces the noise to 59 dB and makes the JETSURF boards Directive 2013/53/EU of the European Parliament and of the Council compliant.
KILL SWITCH SYSTEM
Kill switch system shuts off the engine immediately after the magnet on your wrist disconnects with the JETSURF handle.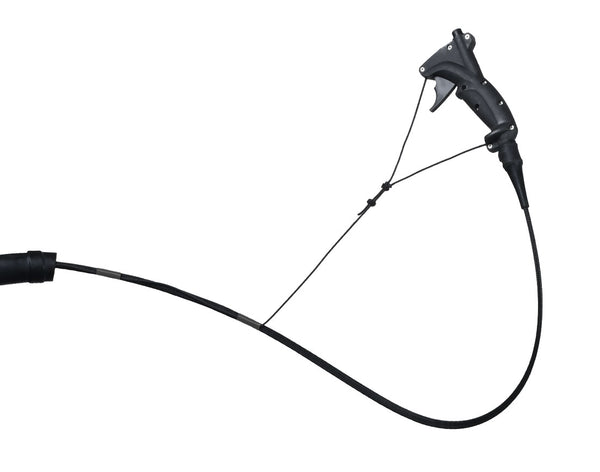 UNDER CONTROL
Acceleration, speed, balance, - it's all in your hand. The JETSURF control handle serves for starting the board, throttle acceleration and makes a good stability point at any stage of your riding level. 
DUFFEL BAG
Carry an extra equipment on your long-distance trip with you!
JETSURF Adventure+ comes a brand new JETSURF Rack, which allows the riders to attach a waterproof duffel bag. Take your phone, camera, toolbag or even food and enjoy a ride of your life.
RATCHET STRAPS
We found the perfect binding setup for long-distance trips. Ratchet straps with provide your feet with maximum comfort when taking long-distance trips.
BUMPERS
Board protected by ergonomic front bumpers.
JETSURF Adventure DFI Plus. YES or NO?
Technical details
DIMENSIONS
| | |
| --- | --- |
| LENGTH | 1800 mm / 70.87 inches |
| WIDTH | 600 mm / 23.62 inches |
| HEIGHT | 150 mm / 5.91 inches |
| WEIGHT | 18.5 kg / 40.8 pounds |
| MAX LOAD | 120 kg / 264 pounds |
| FUEL CAPACITY | 2.8 l / 0.74 gallons + 3.78 / 1 gallon in extra tank |
| PADS | Ratchet binding option, goofy / regular option |
ENGINE
| | |
| --- | --- |
| TYPE | 2 stroke engine NG 100 DFI |
| DISPLACEMENT | 100 CC |
| FUEL | Unleaded 95 + full synthetic 2 stroke racing oil |
| TOP SPEED | 55 km/h   /   35 mph |
DRIVE UNIT
| | |
| --- | --- |
| PROPULSION SYSTEM | Jet-Pump direct drive |
| RACING PUMP | Carbon fiber; Axial flow; single stage |
| RACING IMPELLER | Carbon fiber |
ELECTRICAL
| | |
| --- | --- |
| IGNITION | Processor ICU |
| STARTER | 3F brushless starter |
| BATTERY | Li-Ion 9 Ah (99Wh) - The engine recharge the battery by alternator. |